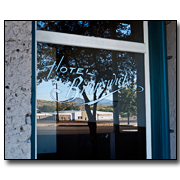 ---
Originally Published July 2009
My parents' birthdays are in June, so we customarily drive up to Kingman and visit them. It was thoughtful of them to be born within the same week, although a year apart. My dad is older, but for a couple of days each year, he struts around and teases my mom about being the same age. It's harmless and only lasts until he deflates on his birthday.
Kingman, for those of you who haven't had the pleasure, only exists because 19th Century steam trains needed to stop for water every thirty miles. When people began traveling in automobiles, Kingman was one of the many stops along Route 66, or the Mother Road, as it's known here. Diesel trains and Interstate 40 all but wiped out these little towns. You only leave the freeway to fill up the tank or divert to another destination. In Kingman, that diversion is Las Vegas. With little industry, most residents find work catering to travelers or retirees.
Route 66 nostalgia is big in Kingman, and the town desperately markets its heyday. There are murals and museums reminding everyone how fun mass migration was during the depression. On this trip, there was an impromptu car show at the downtown museum. A lot of old fogies, like me, were showing off cars they wish they had when they were young. As a kid, I traveled in the back of my dad's Ford Station wagon on that highway a couple of times and I don't recall seeing shiny custom cars on the road. It was mostly other station wagons with luggage piled high on the roof, a water bag hanging from the hood ornament and a swamp cooler hanging out of the passenger window. The only diversion for us kids was trying to coax truckers to blow their horns at us. Alas, Christy Brinkley wasn't on the road either.
We celebrate their birthdays by taking my folks to a nice place for dinner. That's not easy in Kingman. Sure, there are lots of restaurants. Stockton Hill Road has every restaurant you can find in any other American town. If city planers made the franchises line up alphabetically, you wouldn't be able to tell what town you were in, but you could find your favorite faster. Kingman does have a couple of local places to eat and we read about one in the Phoenix newspaper. We arrived in Kingman early and the queen and I went downtown to scout it out.
It's was in a century old hotel called the Brunswick. A three story building built from Tufa stone, the largest in Arizona. That should impress you. Hubb's Bistro was the name of the dining room inside and we declared it perfect place for our upscale dinner. The dining room had tall stamped tin ceilings, white tablecloths, a good menu and a decent wine list. The huge front windows let in a nice light and opened on a spectacular panorama of the passing Burlington-Northern freight trains. It was the kind of reserved place you talk in hushed tones except when a train went by . . . usually every minute and a half.
When we were kids, my parents took us to a restaurant such as this in Pittsburgh. It was called Frenchy's. I think they wanted to teach us manners, so I was told to scoot my sisters' chairs in (I actually did . . . what were you thinking?). We were shown how to use a napkin and what each fork was for. We could actually get through an entire meal without starting a fuss and rolling on the floor, throwing food or chasing each other up and down isles and irritating other diners. In exchange, my parents allowed us to order anything from the menu. We quickly learned the food/price correlation. When the waiter came, we never looked at our parents and firmly gave the waiter our order ignoring my mothers frantic hissing. My sister always ordered lobster and I, the duck a l'Orange. Anything with syrup on it has got to be good stuff. As an adult, I always like my parents to know how good they learned us.
In the evening, we arrived to aromas wafting from the kitchen promising a memorable meal. We were seated next to the live pianist who played tunes from my grade school age. Although most of his repertoire hadn't been on a radio since Philco was in business, I knew the names and recording artists of each of them. It was depressing. I decided to take control of the moment and requested In-A-Gadda-Da-Vida, but he refused. I have friends that sit in front of punk-rock bands and ask them to play Feelings. Each refusal is met with another five dollar bill on the pile. It's interesting to see what point purists sell out. I thought about copying their game, but I wasn't exactly flush with fives that night.
Our table was a large round-top that could have easily sat more people. We enjoyed a glass of wine and caught up on family gossip. The waitres brought a basket of freshly baked rolls and the aroma would have tempted the devil into redemption. It was maybe on the second glass of wine that Anne reached for the bread and after retrieving a warm bun, she set the parchment lined basket back down on the table's center . . . just above a burning candle. I remember my mother saying, "Oh my" and glanced up to see the bread basket going up in flames. Like Houdini ripping a tablecloth from under a dish laden table, I snatched the paper from the basket leaving the remaining rolls in place.
I'm not sure what I thought I was going to do with it, but I began to wad it up, which literally only added more fuel to the fire. A quick glance around the room proved that we had become the evening's entertainment. Finally, I threw the inferno on the floor and started stomping on it. I suspect the crowd mistook me as a Flamenco act because there was an 'Ole' from the other side of the room. That's when I heard the voice from behind say, "Throw water on it." . . . You guessed correctly; the Three Stooges couldn't have scripted it better. The room broke out into laughter and applause.
Next year, we're going to Denney's.
Till next month.
jw
P.S. It really wasn't our fault, but the Brunswick went dark a year after this article was published.