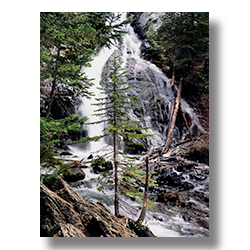 License to Fly
---
Originally published June 2005
When I walked out of the tackle store with my new Montana fishing license, I knew I had wasted twenty-five bucks. Posted on the chalkboard were fishing conditions for the Yellowstone River and they said it was running high, muddy and fishing had been 'blown out.' As I crossed the first bridge over the river, I confirmed they were right. The river was a brown boiling mess. There would be no fishing on this trip.
Oh well! I'd come to Montana on a three days photo shoot. I wanted to capture springtime Yellowstone images. Now that fishing was out, I'd get straight to work. I decided to use the extra time exploring the valley between Livingston and Gardiner and photograph my way to the park.
I spent a lot of time hiking up a mountain trail to shoot a waterfall and now that I'd made it back to the car, I was thirsty, hungry and exhausted. I stopped at the first market I found and bought some water and munchies. Piling into the car, I opened my goody sack and pulled out the first bottle of water and drained it. I should have carried some on the trail, but now it tasted sweet and appeased my raging thirst. Figuring the sack would make a good garbage bag, I finished off a second bottle and some Pringles, then stuffed the litter in the plastic bag tossing it on the passenger seat.
When I got to the Yellowstone gate, I pulled my credit card, annual park pass and driver's license out of my wallet. Since my pass was due for renewal in June, I decided to buy a new one. I handed the ranger my old pass, driver's license and credit card to buy a new one. She looked over my pass and pointed out that it was still good for this visit and I would save money if I waited to get a new one. I capitulated with an "OK" and took back my cards and casually tossed them with the maps and fliers on the passenger seat. There was traffic behind me, so I didn't want to take the time to put them back in my wallet.
I shot at a couple of sites before getting to Old Faithful. Then it took about an hour before the geyser did its thing and by then I was hungry, so I went by the food court and bought a piece of chicken to tide me over until dinner. I enjoyed my picnic, sitting on the fender of the rental car. Being the good citizen that I am, I retrieved the plastic bag from the car and added the new trash to it before I tossed the whole mess into a nearby bear proof rubbish bin.
By now, you've figured out what happened when I went to pay for dinner that evening. The credit card, license and park pass got up and crawled into the trash bag before I threw it away. They say your whole life flashes before your eyes the moment before you die. It was sort of like that when I realized what the consequences of my blunder were. Two horrible realizations struck. The worst was that Anne would never let me live this one down, but more immediate, was that I no longer was in possession of a photo ID needed to board the plane home. 
On the phone, the airline people were nice, although I could hear giggling in the background, and were encouraging when I offered to drive to the Bozeman airport to see what I could use in lieu of a license. When I got to the airport they assured me that this happens all of the time and we could work something out.  The TSA agents huddled, snickered and pointed while whispering among themselves. They purposefully avoided eye contact.
"Your other credit cards will work if you have some government document." Carol the ticket agent offered. "You know, like your Social Security card, a birth certificate, a water bill . . ."
I rummaged through my wallet and memory. I haven't replaced my Social Security card since my wallet was stolen years ago, I don't carry a birth certificate and since I wasn't leaving the country, I left my passport at home.  I had nothing. Finally I forlornly mumbled "All I have is the Montana fishing license I bought yesterday!"
Carol looked at me in a way that a mother looks at a penitent child and with a reassuring voice said, "That'll do."
Till next month.
jw