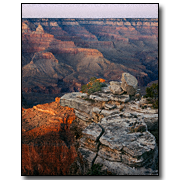 Campfire Tales
---
Originally published May 2006
In April 2006, subscriber Joseph Clark and I traveled to the Grand Canyon's south rim to shoot some images. I consider our trip a qualified success. We got some good shots, but often those are not the defining moments of the trip. From Phoenix, you can make it to the south rim and back in a day, but if you spend the night you can take advantage of the beautiful evening and morning light. With that in mind, we packed up and left early Saturday morning. Even though we dallied along the way with short side trips, we had plenty of time to scout locations and set up camp before the light got really good.
Being the burly outdoorsman that I am, I like to set up camp early to preclude fumbling around in the dark. I usually unload the truck, set up a table and chairs, and then hang some lights. The whole process takes 15 maybe 20 minutes but that was before I meet the tent from hell.
Joseph borrowed this tent from a friend and it came without any instructions. The tent was an evil design that I've never seen before. Instead of having the normal support rods that crisscrossed at what was surely top, it had six rods that intersected like those of an umbrella but out of order. It was probably some European design and if you shook it three times the right way, it would set itself up, cook dinner and take the dog for a walk. I didn't do that for us.
Obviously, the junction of the rods was supposed be at the top and the support rods were meant to radiate spider like out to the tent's corners. Somehow the arms on this one were out of order and the supports on adjacent sections of fabric were on opposite sides. Did I mention that the tent couldn't be disassembled and correctly put back together?
I wrestled with this thing for over an hour and I swear that it was trying to devour me before I heard Joseph's meek voice from outside of the tangle of fabric in which I was cocooned. "Maybe they sell tents at the store." After extracting me from the clutches of the evil tent, we drove to the park's outfitter store. We found out that indeed they do sell tents there . . . really, really expensive ones. They also rent them and we tried to rent one for the night. You can't do that. You have to rent them by the day. You pick it up one day and return it the next. After loosing the argument about the fallacy of their logic, we paid the deposit and hurried back to camp where we set up the rental in minutes.
With housekeeping finally behind us, we scurried off to find a good place to shoot. When we arrived at Mather Point, we joined a crowd large enough to populate Yuma. After finding a clearing in the forest of tripods, we set up our equipment and shot well past sunset. While returning to the truck, we ran across a team setting up a location for sunrise service the next morning. That was enough of a clue to convince us that we should look somewhere else.
Back at camp all of the afternoons prep work paid off. I pulled the steaks out for dinner while I tasked Joseph with building a fire. The previous campers at that campsite left us a fresh bundle of firewood and I'd expected to eat dinner by the fire. It didn't happen. We sat in the dark trying to find the food on our plates. I chided Joseph about how Anne, the Fire Starter, would have a roaring fire going by now and how we needed a fire to roast marshmallows for my ginger snaps. I finally decided I would show poor Joseph how a real fire is made.
After two hours of lighting every piece of paper any where near the campsite, including a brand new roll of toilet paper, we figured out why the previous campers were so generous. The wood was unburnable. They were like the trick candles you jokingly put on someone's birthday cake that won't blow out, these logs wouldn't catch fire with a blow torch. Disgruntled and tired we finally gave up and turned in without any marshmallow ginger snaps (jimmyums).
In my sleeping bag, I realized we would have been better off just burning the tent from hell.
Till next month.
jw