New for February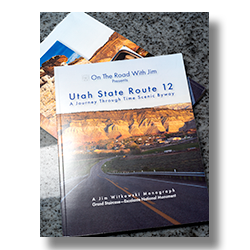 Hot Off The Press
The physical geography of the Grand Staircase-Escalante National Monument is unlike any place on Earth. This landscape has been seabeds and mountain tops. It's been covered by volcanoes and eroded by water. When massive fires aren't burning in California, the air is clean, dry, and you can see forever. It's a high desert climate and a place to get away from noisy cities on the coasts. In other words, it's perfect for photography. You could spend a lifetime photographing the changing light—rich in color, contrast, distinctive shapes, and textures. Before you make that commitment, Utah's State Route 12 is a 122-mile road that offer's a sample of what's waiting for you.
After years of picture taking in Utah and several months of design and layour, it's ready for your enjoyment — in several formats. To see what we're excited about, click on the thumbnail photo or title link above and visit the page.
Read My Blog Announcement
As a travel photographer, I search the world looking to put interesting subjects in my viewfinder. I specialize in landscapes, historical objects and travel destinations. I sell my work as signed prints, licensed images, folio collections and books.